The Paean Bards – Excerpts – by Sunswords – narrated by Asclepius
Podcast: Play in new window | Download (Duration: 3:54 — 5.4MB) | Embed
Subscribe: Apple Podcasts | Email | RSS
Hello everyone, this is Asclepius, with some wonderful poems by Sunswords. They are entitled
"The Paean Bards – Excerpts"
Background music is "Android Dream" by Smartsound
The Treachery of Baram-Kul
By Xan

Where bloodied roses and dry bones lie,
Virtues forsake this unholy ground.
Within the shadows shrieks a voice high,
Take heed good folk, for death is abound.

Why forth have you come, oh foolish one!
To feed the maggots with your corpse?
The gods of mercy shall spare you none,
This darkness swallows with no remorse.

Baram-Kul the Lich will welcome you warmly,
He yearns to feast on your blood red flesh.
From your skull a cup he shall drink deeply,
Your eyes and your teeth, a garland most fresh.

Baram-Kul the Lich is most forgiving he says,
Ghastly flames burn bright in his eyes,
His voice echoes in his kingdom of decay:
"Perform for me and freedom's your prize".

Where bloodied roses and dry bones lie,
A dancing skeleton mocks the sunlight,
The stretched skin of a face in the wind does sigh,
As your scream is drowned out, by the still of the night.

-End-

Of Curses Betwixt
By Anonymous

Poisoned shroom and spiders' silk,
I cast a curse on thee,
Thine precious wit and foolish ilk
Rue the day thou camest to be!

Blackened pearl and mandrake root,
I bind my will to ye,
Do my bidding mine faithful brute
So fall upon thine knees!

Red moss and pinch of ash,
I trap thy heart once free,
Twist thine soul and hopes be dash
This crone doth laugh with glee!

-End-

Dread Beasts' Puzzle
By Parnaxis

A crown I wear, a jewelled arc,
Gems that shine, in light and dark.

Through air I crawl, a dreadful grace,
Wings I have not, I leave no trace.

My weapons sheathed, a dagger pair,
Your blood it drinks, your flesh it tears.

Wanderer of the abyss, you draw near,
What am I, the one you'll fear?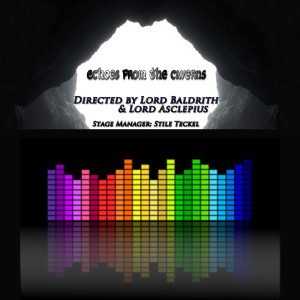 ---
Posted by Asclepius - Email Author
Visit The Caverns Website.
Please note: This is a SotA community run project, and any and all content may deviate from the fictional canon of the game.