The Pain Within, the Pain Without – written and narrated by Amber Raine
Podcast: Play in new window | Download (Duration: 1:14 — 1.6MB) | Embed
Subscribe: Apple Podcasts | Email | RSS
Hello everyone. This is a beautiful and dark poem written and performed by Amber Raine. Background music is "Lover's Touch/Missing you" by Smartsound.
Here is the text:
The Pain within, the Pain without, by Amber Raine

Black as nightmares are my dreams
Pure starless darkness is my night
Creating tainted fake smiles, my heart so broken
Nothing any longer worth the fight.

Black as eclipses are my tears
Blinding behind my bleeding eyes
No rainbows, no golden rays shall reappear
No-one else will she hold so dear

Black are my deepest thoughts
Violently wandering in my head
Can no longer draw the picture to connect the dots
No longer knowing the difference between good and bad

Black has become my world
Pitch-dark outside and in
All the vortexes have become swirled
No more shadows to hide within

Black is all that shall ever remain
I let go, forever releasing him.
I am fighting no more
From behind my personal black prison door.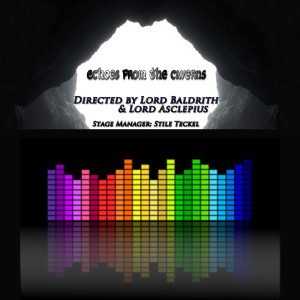 ---
Posted by Asclepius - Email Author
Visit The Caverns Website.
Please note: This is a SotA community run project, and any and all content may deviate from the fictional canon of the game.