Haikus – by DizzySol, Stile Teckel, Bubonic, Ronan, Lord Beaumaris, Asclepius – Narrated by Asclepius
Podcast: Play in new window | Download (Duration: 2:51 — 3.8MB) | Embed
Subscribe: Apple Podcasts | Email | RSS
Hello everyone, Asclepius here, with a collection of haikus. These are some of the haikus submitted for Dame Lori's carnival contest, and the authors have given us permission to broadcast them. Thanks to everyone who participated! Background music is "Summer Dream" by Smartsound.
DizzySol 

For nights, for days, we
the forgotten kings and queens,
lay, waiting, for truth

waiting between time
layers and layers forming
anticipation

sweet release, washing
over us completely, dark,
drowning sensation

Stile Teckel

Lori is back again
Ala, Ala, Lori is back again
The fun shall begin

Bubonic

By the warm campfire,
I gaze at the shattered moon,
Lost in dreams of Earth.

Ronan

Hammer beats rhythm
in caves so dark and deep
music of lost souls

Lord Beaumaris

A dream of odd sheep
Thine helm faced its mortal blow
Purple llamas leap

Once shining and pure
Our compromise, betrayal
Forsaken virtues

Asclepius

The shattered moon weeps
Land ravaged by time and Fall
Daedalus waits high

DarkStarr brings chaos
OneandOnly brings mass death
Lord British brings life

Drink some mead with me
The tavern sways and blanks out
Drink more mead with me!

Crystals deep in mines
Kobolds and satyrs on guard
Adventurers die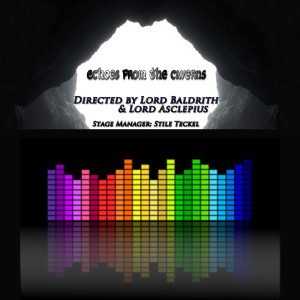 ---
Posted by Asclepius - Email Author
Visit The Caverns Website.
Please note: This is a SotA community run project, and any and all content may deviate from the fictional canon of the game.