Echoes From the Caverns 2-27-15
Podcast: Play in new window | Download (Duration: 1:04:05 — 58.7MB) | Embed
Subscribe: Apple Podcasts | Email | RSS
Hi All! Here is the news for February 27. 2015. Hope you are enjoying Release 15!
Play Release 15 Now!
Underworld Funded – Now Entering Final Week!
Crowfall Kickstarter Funded in 3 Days!
Final Week for Massively Kickstarter
First Wedding in New Britannia
Rick Holtrop's Spectral Mines
In-Game Community Weekend Events
Sir Frank's Writing Contest (with Prizes!)
Receiving Pledge Rewards and Add-On Items
Changes to Store Credit Conversions
Steam Access Keys Available for All Backers
How to Cancel Monthly Payment Plans
This Week In the News
Upcoming Events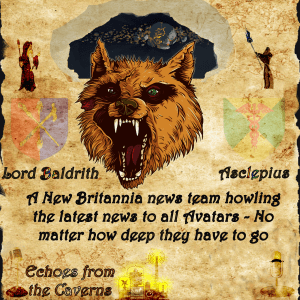 ---
Posted by Lord Baldrith - Email Author
Visit The Caverns Website.
Please note: This is a SotA community run project, and any and all content may deviate from the fictional canon of the game.