Echoes From the Caverns 12-18-15
Podcast: Play in new window | Download (Duration: 1:32:10 — 84.4MB) | Embed
Subscribe: Apple Podcasts | Email | RSS
Hello Everyone! Here is the news for December 18th, 2015. Hope everyone is enjoying R25. We will be off for the next two weeks due to the holidays December 25th and January 1st! Hope everyone has a wonderful Christmas and New Years!
Happy Holidays!
Announcing the 10% Holiday Bonus!
Play Release 25 Now!
The FireLotus Release 25 Party – Christmas Edition!
R25 Patch Notes
Q1-2016 Schedule Update
SotA's Dye System
SotA Backers Decorate Portalarium for the Holidays!
Wake Up New Britannia!!! – 12 Days of SotA
MMORPG.com Players' Choice 2015 – Most Anticipated
2015 Winter Holiday Bundles
17 Day Countdown for Winter Reward & Price Expirations
In-game Community Events
Upcoming Events
Recommended Games to Back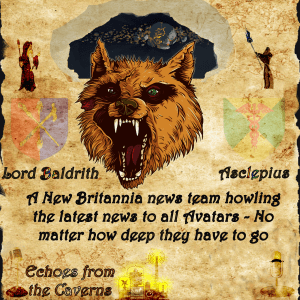 ---
Posted by Lord Baldrith - Email Author
Visit The Caverns Website.
Please note: This is a SotA community run project, and any and all content may deviate from the fictional canon of the game.