Echoes From the Caverns 12-11-15
Podcast: Play in new window | Download (Duration: 1:20:15 — 73.5MB) | Embed
Subscribe: Apple Podcasts | Email | RSS
Hello Everyone! Here is the news for December 11th, 2015.
Special Guest:
Apollox Evanheart
Hilt Fortress Interior
New Britannia's Next Top Model
Myrcello's Peaceful Novia
Seven Piece Musical Performance
Holly Wreath Hats
Let's Make a Snow Family!
Replenishing Rocket Fireworks Boxes
Bear Tavern Brawl
Wake Up New Britannia!!!
The Traditional FireLotus Release 25 Party – Christmas Edition
24 Day Countdown for Winter Reward & Price Expirations
Account Services Vouchers
In-game Community Weekend Events
Upcoming Events
Recommended Games to Back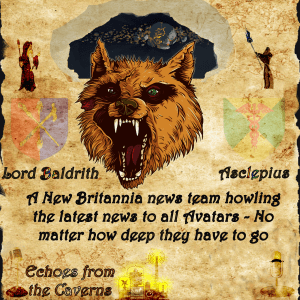 ---
Posted by Lord Baldrith - Email Author
Visit The Caverns Website.
Please note: This is a SotA community run project, and any and all content may deviate from the fictional canon of the game.