Echoes From the Caverns 12-05-15
Podcast: Play in new window | Download (Duration: 50:22 — 46.1MB) | Embed
Subscribe: Apple Podcasts | Email | RSS
Hello Everyone! Here is the news for December 5th, 2015. Lord Baldrith here flying solo…Asclepius should be back next week! I hope my ramblings are entertaining for this weeks news!
The Making of The City of Aerie
New Dev+ Asset Pack: All Avatar Animations
Hangout of the Avatar – Release 24 Postmortem/li>
NPC Submissions Requested for Trading Outpost of Kiln
HoBLotH III: Lifeblood of the Hearth
Envyco Gaming's Tour Guide R24 – Pilgrim Bonnet
Stone Creature Statues
Release 24-25 Christmas Decoration Contest!
31 Day Countdown for Winter Reward & Price Expirations
In-game Community Events
Upcoming Events
Recommended Games to Back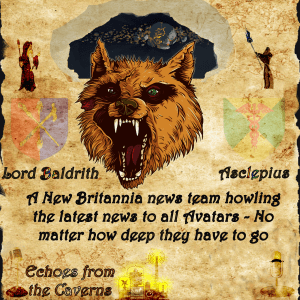 ---
Posted by Lord Baldrith - Email Author
Visit The Caverns Website.
Please note: This is a SotA community run project, and any and all content may deviate from the fictional canon of the game.