Echoes From the Caverns 10-23-15
Podcast: Play in new window | Download (Duration: 1:38:45 — 90.4MB) | Embed
Subscribe: Apple Podcasts | Email | RSS
Hello Everyone! Here is the news for October 23rd, 2015. Asclepius is away for a work related project so we have a wonderful guest! Lots of great stuff to talk about so there is a bit longer podcast than usual.
Special Guest:
Cordelayne
Hello One Far West
Britannian Mining Company Convention
NBNN at Portalarium
Water Gets an Experimental Makeover in Release 23
Sprichst Du Deutsch? Ou peut-etre francais?
Small and Subtle: Tier Markers
Starr Long Intel Buzz Presentation: Design Vision vs. Feedback: Developing in the Open
Pianist Bernie Katzman Joins Markee Dragon Playing Shroud of the Avatar LIVE
Halloween Party with Costume and Music Contests!
10 Day Countdown for Fall Reward & Sale Expirations
Get Your 15& Black Friday Bonus
In-game Community Weekend Events
Upcoming Events
Recommended Games to Back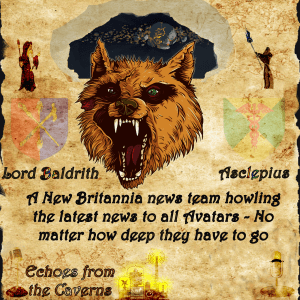 ---
Posted by Lord Baldrith - Email Author
Visit The Caverns Website.
Please note: This is a SotA community run project, and any and all content may deviate from the fictional canon of the game.