Echoes From the Caverns 10-02-15
Podcast: Play in new window | Download (Duration: 57:20 — 52.5MB) | Embed
Subscribe: Apple Podcasts | Email | RSS
Hello Everyone! Here is the news for October 2nd, 2015.
Get Your 15% Black Friday Bonus Starting Now!
New Single Player Scene Highvale Village Battle
The Fortress at Hilt in Nightshade Pass – Part 2
Invitation To Combat/Skills/Spells Video Chat
Invitation to Hangout of the Avatar – Release 22 Postmortem
Release 23 Grand Tour Quest Reward: Plague Doctor Mask
Jack-o-Lantern 6-Pack
Grim Reaper Statue
Spider Web 6-Pack
New Lute and Piano
31 Day Countdown for Fall Reward & Sale Expirations
Auto-Canceling Monthly Layaway Payment Plans
In-game Community Weekend Events
Upcoming Events
Recommended Games to Back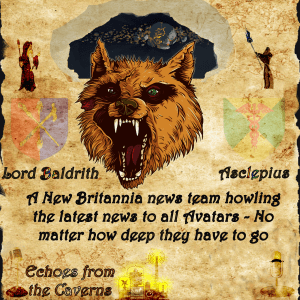 ---
Posted by Lord Baldrith - Email Author
Visit The Caverns Website.
Please note: This is a SotA community run project, and any and all content may deviate from the fictional canon of the game.