Echoes From the Caverns 07-31-15
Podcast: Play in new window | Download (Duration: 40:03 — 36.7MB) | Embed
Subscribe: Apple Podcasts | Email | RSS
Hello Everyone! Lord Baldrith here flying solo. Poor Asclepius has run into some horrible internet issues. Talk about bad timing! Hope you are enjoying Release 20!!! Here is the news for July 31st, 2015.
Play Release 20 Now!
Role-Players of the Avatar
Shroud of the Avatar Trailer (Fan Updated)
Player Owned Towns, Island Template, Editor, & Dara Brae
Battle Banners, Obsidian Towers (oh, and Outhouses)
Tower Home Renovations
31 Day Countdown for 10% Summer Bonus & Reward Expirations
17 Day Countdown for Pledge Splits & Merges
In-game Community Weekend Events
Upcoming Events
World Builder/Level Designer and VFX Artist Job Openings
Recommended Games to Back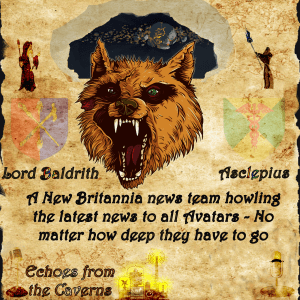 ---
Posted by Lord Baldrith - Email Author
Visit The Caverns Website.
Please note: This is a SotA community run project, and any and all content may deviate from the fictional canon of the game.