Echoes From the Caverns 06-12-15
Podcast: Play in new window | Download (Duration: 31:46 — 29.1MB) | Embed
Subscribe: Apple Podcasts | Email | RSS
Hello Everyone! Here is the news for June 12th, 2015. I am still solo this week, please bare with me while I ramble away the news. Hope you all enjoy!
Zombies!
SotA at E3 Next Week
Solace Forest
Hangout of the Avatar – Release 18 Postmortem
Player Created Quests
Public Cache Chests
Time Lapse Video of New Britannia's Celestial Bodies
Aether Vibration Amplifier Console
Kobold Masks
Word Builder/Level Designer and VFX Artist Job Openings
In-game Community Weekend Events
Sign Up for the Bear Tavern – War of 5 Armies!
Vengeance: Quests
The Bard's Tale IV Kickstarter
Receiving Pledge Rewards and Add-On Items
Changes to Store Credit Conversions
Steam Access Keys Available for All Backers
Word of Mouth Marketing
How to Cancel Monthly Layaway Payment Plans
Upcoming Events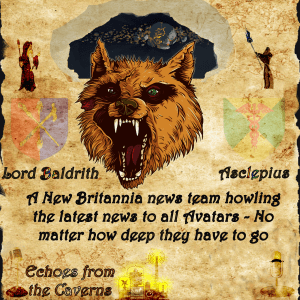 ---
Posted by Lord Baldrith - Email Author
Visit The Caverns Website.
Please note: This is a SotA community run project, and any and all content may deviate from the fictional canon of the game.