Echoes From the Caverns 02-20-15
Podcast: Play in new window | Download (Duration: 54:53 — 50.2MB) | Embed
Subscribe: Apple Podcasts | Email | RSS
Hello Everyone! Here is the news for February 20. 2015. Another excellent news week! Hope you enjoy!
Underworld Gets Tracy Hickman and Steam Greenlight
Single Player Offline Features
Abe Weighs in on Crafting the Novia Overworld
Let's Talk About the Economy!
SotA On the Road Again!
Massively Kickstarter Success
In-Game Community Weekend Events
Sir Frank's Writing Contest (with Prizes!)
Last Chance Exclusives
Gem Treasure Designs: Silver Serpent Pendant
Receiving Pledge Rewards and Add-On Items in Release 14
Changes to Store Credit Conversions
Steam Access Keys Available for All Backers
How to Cancel Monthly Payment Plans
Upcoming Events
Hope you're all having a great time in Release 14!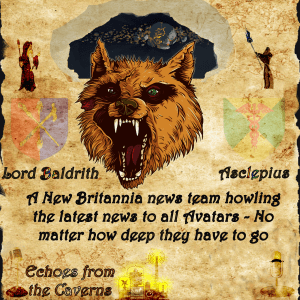 ---
Posted by Lord Baldrith - Email Author
Visit The Caverns Website.
Please note: This is a SotA community run project, and any and all content may deviate from the fictional canon of the game.