Echoes From the Caverns 8-8-14
Podcast: Play in new window | Download (Duration: 1:17:36 — 177.6MB) | Embed
Subscribe: Apple Podcasts | Email | RSS
Hello Everyone!  Lord Baldrith and Asclepius here with another great Installment of the news.  This week we have guest stars Lord Jouten and Sir Frank!  Excellent interview and interaction with these guys they are great to talk to!   Over 1 hour long this week!  Hope you enjoy!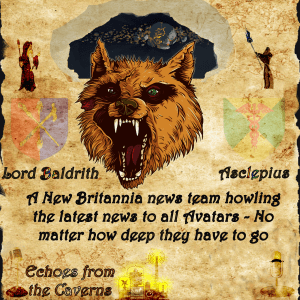 *Note from Stile Teckel
This is truly fantastic! A special thank you to both Sir Frank and David Peters for guesting on the show. It truly honors me and blows me away to get to work with the people in the community. I am touched that you think enough of me to work with us when I dropped a note asking, it truly means a lot. I can't do it justice with words so shall leave it as thank you. That goes to everyone of course, but this particular time you both *bows*. Please let me know if I can ever return the favor.
Lord Baldrith and Asclepius amazing as always also, and thanks for braving my insane ideas!
We will be continually looking for new guests and we want you! whomever you are, you have a voice with us – when we can make it happen from a scheduling stand point! At this time I am in talks with several people who will be joining as a guests, and some people I think many of you will be excited about!!! But until I have confirmed dates and times you will have to wait to find out who!
---
Posted by Lord Baldrith - Email Author
Visit The Caverns Website.
Please note: This is a SotA community run project, and any and all content may deviate from the fictional canon of the game.