Echoes from the Caverns 2.6.2015
Podcast: Play in new window | Download (Duration: 55:42 — 79.8MB) | Embed
Subscribe: Apple Podcasts | Email | RSS
Hello everyone, here is the news release for February 6. 2105. Lots of great items and news about Shroud of the Avatar, including:
Raise the Underworld
New Pledge Rewards: Bank Slots
Receiving Pledge Rewards and Add-On Items in Release 14
Time.com includes SotA in Top 50 Most Anticipated Games of 2015
The Release 15 Grand Tour Silver Jester Carnival Mask
Limited Edition Jester Carnival Mask
Massively Overpowered Kickstarter
$10 for $10 Bonus Promotion
Novia Overworld Work-In-Progress
Changes to Store Credit Conversions
In-game Community Weekend Events
Last Chance Exclusives
Steam Access Keys Available for All Backers
How to Cancel Monthly Payment Plans
This Week In The News
Upcoming Events
Hope you're all having a great time in Release 14!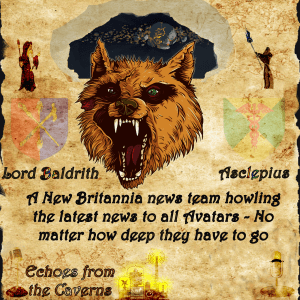 ---
Posted by Asclepius - Email Author
Visit The Caverns Website.
Please note: This is a SotA community run project, and any and all content may deviate from the fictional canon of the game.