Echoes from the Caverns 11-24-17
Podcast: Play in new window | Download (Duration: 1:12:58 — 110.3MB) | Embed
Subscribe: Apple Podcasts | Email | RSS
Greetings Fellow Avatars! Happy Thanksgiving! Here's what we have for you in this week's edition of Update of the Avatar:
Game Development
Armor of Truth Full Set
The Making of East Longfall Wetland
Norgard Barbarians
New Maps Added: Blood River Outskirts & Solace Bridge Outskirts
News Announcements
2017 Spooky Items & Crown Bonus Extended to Dec. 1
R47 Postmortem Missed Questions
Reminder: Release 48 Postmortem Telethon – Dec.1
Survey: Your Shroud of the Avatar General Experience
BrightLocker's Crowd Equity Campaign Shroud of the Avatar Perks
Community Wellness with the Meretz Fitness App
Harvest Weekend Sale
New Free Trial Begins! Runs thru Dec. 13
Livestream: Artifacts & Virtue Gear
Upcoming Events Calendar
Community Updates
Spotlight: New Fawn – Player Owned Town
AERIE Fund Dev Crafting Competition & Charity Auction
Contest: The Avatar's Guide to Knowledge and Virtue
Party: Portalarium Studio Grand Holiday Party – Jan. 12
Resources: Players Helping Players
Recommended Project to Support: Town of Salem's The Savior of Salem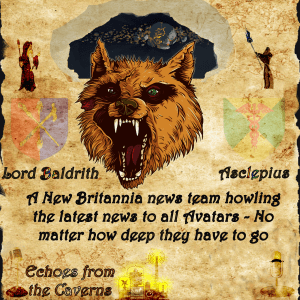 ---
Posted by Asclepius - Email Author
Visit The Caverns Website.
Please note: This is a SotA community run project, and any and all content may deviate from the fictional canon of the game.