Echoes From the Caverns 11-18-16
Podcast: Play in new window | Download (Duration: 1:45:02 — 130.4MB) | Embed
Subscribe: Apple Podcasts | Email | RSS
Hello everyone! Here is the news of the week! Hope you are enjoying release 36!
Play R36 Now!
The Making of Blood Bay
Xenos Polish
Game Systems Posts
Gift Boxes
R35 Lot Deed Winners
2016 Winter Holiday and Assorted Add-On Goodies
10-Day Countdown to Expirations, 15% Black Friday Bonus, and Fall into Winter Telethon (now with schedule & prizes)
Upcoming Events
Community Resources – Players Helping Players
Recommended Projects to Back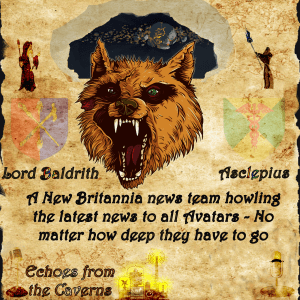 ---
Posted by Lord Baldrith - Email Author
Visit The Caverns Website.
Please note: This is a SotA community run project, and any and all content may deviate from the fictional canon of the game.