Echoes From the Caverns 11-17-17
Podcast: Play in new window | Download (Duration: 1:36:03 — 121.8MB) | Embed
Subscribe: Apple Podcasts | Email | RSS
Hi Everyone! Here is the news of the week! Hope you are enjoying Release 48!
Play Release 48 Now!
Winter 2017 and R47 Telethon Items
Release 48 Postmortem Telethon – Dec.1
Release 48 Major Artifact Changes Clarifications
Survey: Your Shroud of the Avatar Gameplay Experience
BrightLocker's Crowd Equity Campaign Shroud of the Avatar Perks
Community Wellness with the Meretz Fitness App
Cyber Monday Crown Bonus Continues
Russian Version Launch Sale Week 3: Home and Outdoor Decorations
Livestream: Scottie's Yuletide Gifts
R47 Lot Deed Raffle Winners
Upcoming Events Calendar
Contest: The Avatar's Guide to Knowledge and Virtue
Party: Portalarium Studio Grand Holiday Party – Jan. 12
Event: R48 Welcome Quest in Veritas Sanctuary
Resources: Players Helping Players
Recommended Project to Support: Underworld Ascendant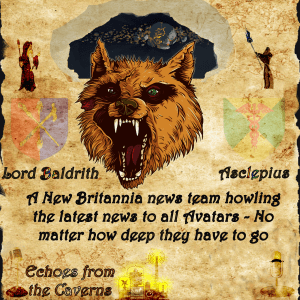 ---
Posted by Lord Baldrith - Email Author
Visit The Caverns Website.
Please note: This is a SotA community run project, and any and all content may deviate from the fictional canon of the game.