Echoes from the Caverns 11.14.2014
Podcast: Play in new window | Download (Duration: 43:26 — 58.7MB) | Embed
Subscribe: Apple Podcasts | Email | RSS
Hello everyone – here is the newscast for November 14, 2014. Lots of exciting updates this week, with Lord Baldrith and myself.
Highlights this week include:
Duke & LotM VIP Design Roundtable
Share Your Screenshots on SotA's Steam Community Hub
More Release 12 Scenes
$5M Backer Bonus Reward
SotA Community is Rockin' It!
Get Your 15% Bonus
Holiday Specials
Last Chance Exclusives: Cooking Pot of Prosperity and Magic Sigil Cloak
Alienware Sponsors $20 Pledge Upgrade Coupon
Upcoming Events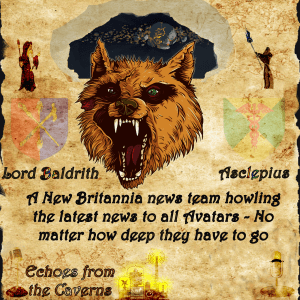 ---
Posted by Asclepius - Email Author
Visit The Caverns Website.
Please note: This is a SotA community run project, and any and all content may deviate from the fictional canon of the game.