Echoes From the Caverns 11-03-17
Podcast: Play in new window | Download (Duration: 1:19:00 — 94.7MB) | Embed
Subscribe: Apple Podcasts | Email | RSS
Hi Everyone! Here is the news of the week!
New Low-level Mines
Truth, Love, and Courage Armor
Scottie's Yuletide Objects of 2017
Winter 2017 and R46 Telethon Items
R47 Postmortem Telethon Results
Movember: Moustache of the Avatar
UO 20th Postmortem at GDC 2018
Portalarium at SXSW 2018
Free Trial Test – Nov. 1-15
Cyber Monday Crown Bonus Continues
Russian Version Launch Sale Week 1: Wearables and Property Deeds
Upcoming Events Calendar
Halloween Contest Winners!
Extra Life Charity Livestreams This Saturday, Nov. 4!
WANTED! The Hispaniola Treasure Map Hunt
Resources: Players Helping Players
Recommended Project to Support: Wasteland 3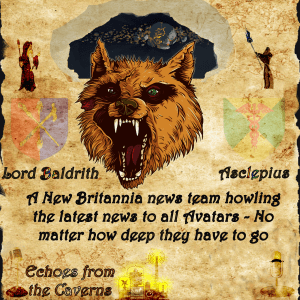 ---
Posted by Lord Baldrith - Email Author
Visit The Caverns Website.
Please note: This is a SotA community run project, and any and all content may deviate from the fictional canon of the game.