Echoes From the Caverns 09-29-17
Podcast: Play in new window | Download (Duration: 1:07:00 — 103.6MB) | Embed
Subscribe: Apple Podcasts | Email | RSS
Greetings Fellow Avatars! Here's what we have for you in this week's edition of Update of the Avatar:
Game Development 
Play Release 46 Now! 3:35
The Making of Blackblade Foothills, North Midmaer Way, & North Quel Way 18:45

News Announcements

Q4 2017 Schedule Update 25:50
R46 Postmortem Telethon 42:22
Cyber Monday Crown Bonus 46:50
R45 Raffle Winners Announced 50:57
SotA Con Austin 2017 Schedule 51:40
Community Updates
Upcoming Events Calendar 53:40
Play: Hungry Eyes in The Darkness 54:40
Event: Veritas Sanctuary R46 Welcome Events 58:14
Resources: Players Helping Players 1:01:40
Recommended Project to Support: Numenera 2: Discovery and Destiny 1:01:07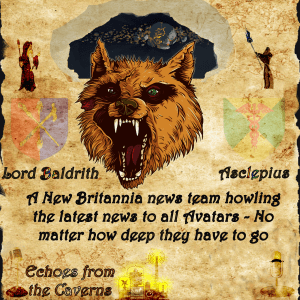 ---
Posted by Asclepius - Email Author
Visit The Caverns Website.
Please note: This is a SotA community run project, and any and all content may deviate from the fictional canon of the game.