Echoes From the Caverns 09-22-17
Podcast: Play in new window | Download (Duration: 1:24:10 — 103.2MB) | Embed
Subscribe: Apple Podcasts | Email | RSS
Hi Everyone! Here is the news of the week!
The Making of Blackblade Foothills (19:45)
Updates to New Content Threads: More Halloween and Oracle Items (29:14)
Top 10 Priorities for Launch (Sept 2017 Edition) (34:10)
Free Trial Test #6 (Sep 7-27) Continues! (48:34)
Testing Incentives Program Reinstated (as a Lottery) (49:18)
In The News: Dragon Con Interview Part 2 and More (58:06)
Weekend Flash Sale: Water Homes, Water Lots, and Ship Decos (59:57)
Upcoming Events Calendar (1:00:58)
Livestream: Northwest Blackblade Mountains (1:02:28)
Spotlight: Knight's Watch Player Town (1:07:21)
Event: Trial of Chaos – Are You Brave Enough? (1:13:52)
Resources: Players Helping Players (01:14:45)
Recommended Project to Support: Nox Archaist (01:15:15)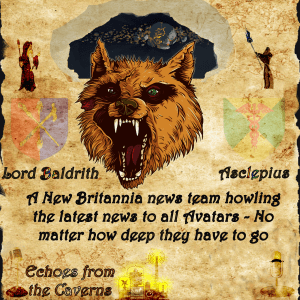 ---
Posted by Lord Baldrith - Email Author
Visit The Caverns Website.
Please note: This is a SotA community run project, and any and all content may deviate from the fictional canon of the game.