Echoes From the Caverns 09-08-17
Podcast: Play in new window | Download (Duration: 1:18:53 — 96.8MB) | Embed
Subscribe: Apple Podcasts | Email | RSS
Hi Everyone! Here is the news of the week!
The Making of South Longfall Wetland (21:25)
The Making of Crooked Shank (cont.) (29:03)
The Making of North Shattered Hills (cont.) (32:37)
New Title for Weekly Update (36:10)
Free Trial Test #6 (Sep 7-27) Now Live! (39:12)
R45 Postmortem Telethon Results (41:13)
Dragon Con 2017 Cosplay Contest Winners! (46:33)
In The News: Richard Garriott and Starr Long Interview at Dragon Con (50:20)
Portalarium is Hiring: Web Developer (51:30)
Weekend Flash Sale: Viking Items! (54:30)
Upcoming Events Calendar (55:27)
New Novia Map for Release 45 (01:02:35)
Giveaway: Grand Opening of Vyrin & Womby's Bookwyrm Apartments (01:03:00)
Resources: Players Helping Players (01:06:07)
Recommended Project to Support: Unknown Realm (01:06:52)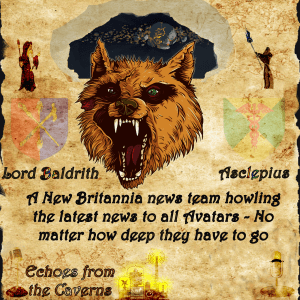 ---
Posted by Lord Baldrith - Email Author
Visit The Caverns Website.
Please note: This is a SotA community run project, and any and all content may deviate from the fictional canon of the game.