Echoes From the Caverns 08-25-17
Podcast: Play in new window | Download (Duration: 59:59 — 91.5MB) | Embed
Subscribe: Apple Podcasts | Email | RSS
Greetings Fellow Avatars! On my own again this week as Lord Baldrith is celebrating!
Here's what we have for you in this week's edition of Update of the Avatar:
Game Development
Making of Crooked Shank (cont.) 16:20
New Norgard Garments (cont.) 18:38
Magic Tricks!
News Announcements 20:45
R45 Postmortem Mini-Telethon – Sep. 6 22:55
Portalarium is Hiring: Web Developer 27:50
Free Trial Test #5 Ends on Aug. 30! 30:00
QA Server Access Now Open to All Players 30:37
Shroud at PAX Dev 36:08
Shroud at Dragon Con 36:41
Weekend Flash Sale: Elves 37:58
Community Updates
Upcoming Events Calendar 38:47
Community Trailer Contest Winners Announced! 40:10
Livestream: Exploring Longfall Woods 43:50
Spotlight: Arx Draconis Player Town 45:00
Event: August's RPOTA Monthly Writing Contest 52:24
Resources: Players Helping Players 54:04
Recommended Project to Support: Denis Loubet Patreon 55:00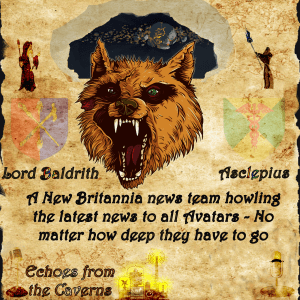 ---
Posted by Asclepius - Email Author
Visit The Caverns Website.
Please note: This is a SotA community run project, and any and all content may deviate from the fictional canon of the game.