Echoes From the Caverns 08-18-17
Podcast: Play in new window | Download (Duration: 1:01:42 — 78.3MB) | Embed
Subscribe: Apple Podcasts | Email | RSS
Hi Everyone! Here is the news of the week!
Making of Crooked Shank (3:35)
New Norgard Garments (cont.) (13:50)
Middle Downs Sneak Peek Video (18:30)
R44 Postmortem Missed Questions Answered (20:00)
Portalarium is Hiring: Web Developer (27:44)
Free Trial Test #5 (Aug 9-30) is Now Live! (31:41)
gamescom devcom Panels Announced (33:44)
Shroud at PAX Dev (37:08)
Shroud at Dragon Con! (37:50)
Weekend Flash Sale: Rent (39:16)
Upcoming Events Calendar (42:17)
Community Trailer Contest Ends Aug. 22! (43:05)
Spotlight: Lake Cusabo Player Town (44:29)
Events: BMC Crafting Fair and Kaz Phoenixfyre Welcome Home Roast (52:26)
Resources: Players Helping Players (55:25)
Recommended Project to Support: Underworld Ascendant (56:17)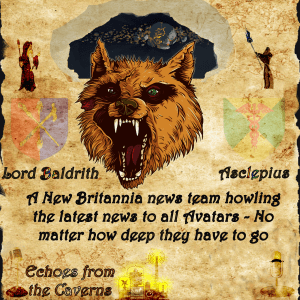 ---
Posted by Lord Baldrith - Email Author
Visit The Caverns Website.
Please note: This is a SotA community run project, and any and all content may deviate from the fictional canon of the game.