Echoes From the Caverns 08-11-17
Podcast: Play in new window | Download (Duration: 1:17:47 — 97.1MB) | Embed
Subscribe: Apple Podcasts | Email | RSS
Hi Everyone! Here is the news of the week!
Making of Longfall Woods (14:10)
Making of South Paladis Scenes: Middle Downs and South Broken Road (cont) (17:50)
Post Episode 1 Content Plan – Initial Draft (24:50)
R44 Postmortem Mini-Telethon Results (43:12)
SeedInvest Campaign Success! (44:12)
Status and Priority of Pledge Rewards & Kickstarter Stretch Goals (44:50)
Update on Pre-Placed Keep & Castle Lot Walls (49:30)
Portalarium is Hiring: Sound Designer (53:50)
Free Trial Test #5 (Aug 9-30) is Now Live! (56:50)
DragonCon Schedule: Yet Even More Panels Announced! (57:35)
PAX Dev Schedule is Live! (1:00:00)
Shroud In the News: Massively Overpowered Needs Advice (1:00:45)
Weekend Flash Sale: SyndCon, Dragons, and Hot Tubs Oh My! (1:01:55)
Upcoming Events Calendar (1:04:50)
Community Trailer Ends Soon! Deadline Extended (1:06:50)
Livestream: Etceter Revisited with Scottie (1:08:10)
Event: Trials of the Avatar PVP Tournament (1:09:25)
Resources: Players Helping Players (1:10:30)
Recommended Project to Support: Crowfall (1:11:00)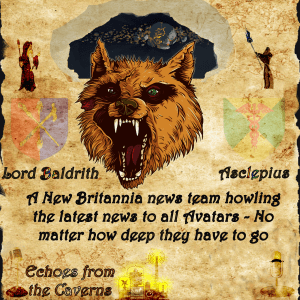 ---
Posted by Lord Baldrith - Email Author
Visit The Caverns Website.
Please note: This is a SotA community run project, and any and all content may deviate from the fictional canon of the game.