Echoes From the Caverns 08-05-16
Podcast: Play in new window | Download (Duration: 1:14:07 — 91.9MB) | Embed
Subscribe: Apple Podcasts | Email | RSS
Hello everyone! Here is the news of the week!
Estgard Remake
Juggling Bottles
Land Rush Update
Dawn of New Britannia Community Trailer Contest
Star Citizen Cross Promotion
Alienware Indie Contest
Add On Store Updates
15% Bonus and 17 Day Countdown to Summer 2016 Expiration Event, Part 2
The Sword of Midras SotA Novel for Hardcover, Kindle, Nook and Audiobook
Upcoming Events
Community Resources – Players Helping Players
ONBE Shipments and Backer Shipping Addresses
World Builder/Level Designer Job Opening
Recommended Projects to Back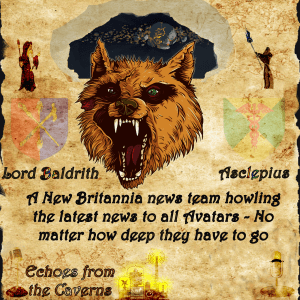 ---
Posted by Lord Baldrith - Email Author
Visit The Caverns Website.
Please note: This is a SotA community run project, and any and all content may deviate from the fictional canon of the game.