Echoes From the Caverns 07-21-17
Podcast: Play in new window | Download (Duration: 1:33:44 — 119.6MB) | Embed
Subscribe: Apple Podcasts | Email | RSS
Hi Everyone! Finally got my vacationing self back here! Here is the News of the week!
New Norgard Garments
Etceter Polish
Vertas Polish
Making of Hallowed Plains (cont.)
Making of Grannus Colossus (cont.)
Free Trial 4 Ends July 26!
Portalarium Joins Forces w/NEVERDIE – Ethereum-Based NEVERDIE & Teleport Gaming Tokens
Explore/Create Panel at Comic-Con San Diego Saturday
Shroud at PAX Dev Next Month – Starr's Crowdfunding Panel
Shroud In the News: Interviews and Livestream with Starr Long
Origin PC's July Bundle Promo – Free Copy of Shroud!
Weekend Flash Sale: Comic-Con San Diego Cosplay Wearables Sale
SeedInvest: Time is Running Short to Join Portalarium!
Upcoming Events Calendar
Welcome to New Britannia' Community Trailer Contest
Community Livestream: Hallowed Plains and Grannus Colossus
Community Spotlight: Shadow's Rest – Player Owned Town
Community Events: Kahli Writing Contest and Treasure Hunt
Community Resources: Players Helping Players
Recommended Project to Support: Denis Loubet Patreon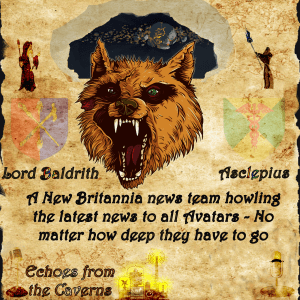 ---
Posted by Lord Baldrith - Email Author
Visit The Caverns Website.
Please note: This is a SotA community run project, and any and all content may deviate from the fictional canon of the game.