Echoes from the Caverns 07-07-2017
Podcast: Play in new window | Download (Duration: 55:00 — 83.3MB) | Embed
Subscribe: Apple Podcasts | Email | RSS
Greetings avatars! On my own again this week; Lord Baldrith should be back next week to join me (yay!)
Here is the news of the week:
New Elves & Elven Outfits
Boreas: The Titan of Truth
Jaanaford Scene Polish
Shroud at RTX 2017 This Weekend!
SeedInvest Updates: New Perks, New Perk Levels, Perk Images
Lord British's Birthday Bash Telethon Results
Summer Telethon 2017 Missed Questions Answered
Free Trial 4 Now Live!
Shroud In the News: Spanish AIAS Honorary Award, GameReactor, The DeanBeat
Weekend Flash Sale: RTX "Returning Home" Sale
Comic-Con Panels with Richard Garriott and Starr Long
Rock Me Avatarus Contest Winners Announced
Community Livestream: Exploring Release 43
Upcoming Events Calendar
Community Event: Isla de Muerta Opening Day + Birthday Bash!
Community Resources: Players Helping Players
Recommended Project to Back: SotA Con Austin!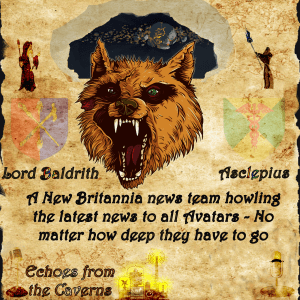 ---
Posted by Asclepius - Email Author
Visit The Caverns Website.
Please note: This is a SotA community run project, and any and all content may deviate from the fictional canon of the game.