Echoes From the Caverns 06-23-17
Podcast: Play in new window | Download (Duration: 1:29:30 — 113.7MB) | Embed
Subscribe: Apple Podcasts | Email | RSS
Hello everyone! Here is the news of the week!
Isle of Storms Before & After Polish
Crypt of the Avatar Polish
Graff Gem Mines New Cavern Area
The Making of Celestis (update)
Lord British's Birthday Bash Telethon – July 6th
New Free Trial Coming Up! July 3-26
Successful Reddit AMA with Richard Garriott and the Team
Richard Garriott at Barcelona Gamelab
Comic-Con Panels with Richard Garriott and Starr Long
Community Contest: Rock Me Avatarus! – Party Showcase Contest
Community Livestream: A New Look to Celestis
Tech Talk Tuesday: Tech Talk Tuesday #8: Continuation of the AMA
Weekend Flash Sales: The Lord British Collection
Make Your SeedInvest Reservation Official!
Upcoming Events Calendar
Community Event: Ordinis Mortis Shopping Extravaganza and After Party!
Community Event: Just 1 Life – 48 Hour Streamathon
Community Resources: Players Helping Players
Recommended Project to Back: Crowfall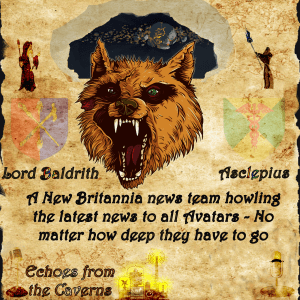 ---
Posted by Lord Baldrith - Email Author
Visit The Caverns Website.
Please note: This is a SotA community run project, and any and all content may deviate from the fictional canon of the game.