Echoes From the Caverns 06-09-17
Podcast: Play in new window | Download (Duration: 1:26:46 — 107.8MB) | Embed
Subscribe: Apple Podcasts | Email | RSS
Hello everyone! Here is the news of the week!
New Libris Ruins Screenshots & Video!
New Boreas Colossus Screenshots
Story: What "Colossus" and "Titan" Terms Mean
In the News: Massively Overpowered Interview with Richard Garriott
Make Your SeedInvest Reservation Official!
Community Spotlight: Kahli – Player Owned Town
Summer Telethon Recording Now on YouTube
Weekend Flash Sales – Emotes!
Upcoming Events Calendar
Community Event: Boat Emote Party
Community Contest: RPOTA Monthly $155 Writing Contest
Community Resources – Players Helping Players
Recommended Project to Back: SotA Con – Austin 2017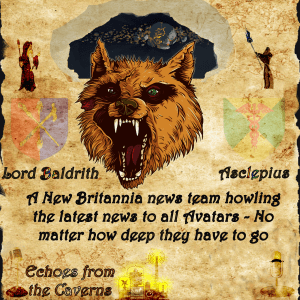 ---
Posted by Lord Baldrith - Email Author
Visit The Caverns Website.
Please note: This is a SotA community run project, and any and all content may deviate from the fictional canon of the game.