Echoes From the Caverns 06-02-17
Podcast: Play in new window | Download (Duration: 1:13:41 — 92.9MB) | Embed
Subscribe: Apple Podcasts | Email | RSS
Hello everyone! Here is the news of the week!
Boreas Colossus Scene (Unclone)
Libris Ruins Scene Update
Announcing Equity Crowdfunding Campaign
Summer Telethon Success! Thank You Community!
Weekend Flash Sales – Telethon Favorites! Moondials & Statues
Community Livestream – Oracle Colossus
Trophy Room Contest Winners Announced!
Tech Talk Tuesday #6 – Decoding the Oracle
Upcoming Events Calendar
Community Event: A Fishing Derby for the Trevor Project
Community Cause: AERIE Fund – Just 1 Life Community Cause
Community Resources – Players Helping Players
Recommended Project to Back: SotA Con – Austin 2017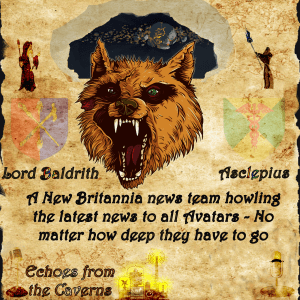 ---
Posted by Lord Baldrith - Email Author
Visit The Caverns Website.
Please note: This is a SotA community run project, and any and all content may deviate from the fictional canon of the game.