Echoes From the Caverns 02-17-17
Podcast: Play in new window | Download (Duration: 1:28:00 — 111.6MB) | Embed
Subscribe: Apple Podcasts | Email | RSS
Hello everyone! Here is the news of the week:
Clockwork Attack!
Town Blessings Update
The Making of Rhun Ruins
The Making of K'rawl
Spring Telethon and Expirations Reminder
Clockwork Pets & Shogun Bundle / Decorations
Weekend Flash Sale
Origin PC Steam Key Bundle
Alienware Steam Key Giveaway: Lowered to Level 4
R38 Offline Data Format Change – Character Preservation Notice
Spring 2017 Crafter's Competition
Boss Battle of the Avatar – Screenshot Contest Winners
Community Livestream – Exploring Rhun Ruins
Doug's (IronMaiden) Chemo Relief Fund
Upcoming Events
Community Resources – Players Helping Players
Recommended Projects to Back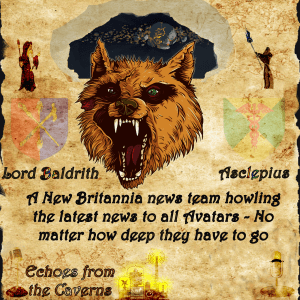 ---
Posted by Lord Baldrith - Email Author
Visit The Caverns Website.
Please note: This is a SotA community run project, and any and all content may deviate from the fictional canon of the game.