Echoes From the Caverns 02-03-17
Podcast: Play in new window | Download (Duration: 1:20:00 — 100.5MB) | Embed
Subscribe: Apple Podcasts | Email | RSS
Hello everyone! Here is the news of the week:
The Making of Upper Fortus
The Making of Rhun Ruins
The Making of K'rul
In the News: Richard Garriott: the man, the myth, the mischief
R38 Postmortem on Feb. 7th at 3pm CT
Boss Battle of the Avatar Screenshot Contest
Origin PC Steam Key Bundle
Alienware Steam Key Giveaway
R38 Offline Data Format Change – Character Preservation Notice
Community Livestream – A Crafting Hub for Developers
Doug's (IronMaiden) Chemo Relief Fund [Update: Telethon with Dev Crafted Gear Auction]
New Stuff: Pristine Gothic Mansion Water Home and Water Decorations
Upcoming Events
Community Resources – Players Helping Players
Recommended Projects to Back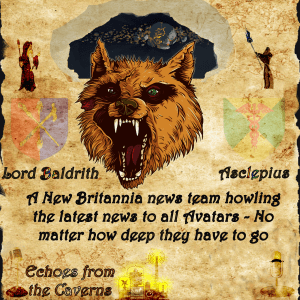 ---
Posted by Lord Baldrith - Email Author
Visit The Caverns Website.
Please note: This is a SotA community run project, and any and all content may deviate from the fictional canon of the game.