Echoes From the Caverns 01-30-15
Podcast: Play in new window | Download (Duration: 1:02:30 — 57.2MB) | Embed
Subscribe: Apple Podcasts | Email | RSS
Hello Avatars! Release 14 is out and there is lots of great news to speak of! Hope you enjoy our weekly banter about all things SotA! Newscast Dated: January 30, 2015.
Here is the list:
Raise the Underworld
Play Release 14 Now and Get Your Grand Tour Hennin Hat
$10 for $10 Bonus Promotion
Standing Stones
Novia Overworld Work-In_progress
In-game Books
Elven Tents
Support Denis Loubet on Patreon
New Britannia Theater Troupe: Live Double Feature Videos
Pledge Rewards, Add-Ons, and Banks in Release 14
Changes to Store Credit Conversions
In-game Community Weekend Events
Last Chance Exclusives
Steam Access Keys Available for All Backers
How to Cancel Monthly Payment Plans
This Week In the News
Upcoming Events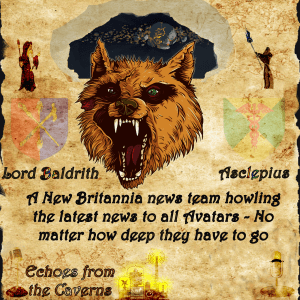 ---
Posted by Lord Baldrith - Email Author
Visit The Caverns Website.
Please note: This is a SotA community run project, and any and all content may deviate from the fictional canon of the game.