Echoes From the Caverns 01-27-17
Podcast: Play in new window | Download (Duration: 1:24:49 — 105.8MB) | Embed
Subscribe: Apple Podcasts | Email | RSS
Hello everyone! Hope you are enjoying R38!! Here is the news of the week:
Play Release 38 Now!
Release 38 Addendum
The Making of K'rul
Perennial Coast Improvements (Solania Polish)
Wealthy Merchant Outfit
Valentine's 2017 Gift Boxes and Card
R37 Lot Deed Raffle Winners
R38 Offline Data Format Change – Character Preservation Notice
Community Livestream – Exploring Canyon Siege
Doug's (IronMaiden) Chemo Relief Fund
New Stuff: Pirate Ships, Dragon Pets, Shogun Bundles, and more…
Upcoming Events
Community Resources – Players Helping Players
Recommended Projects to Back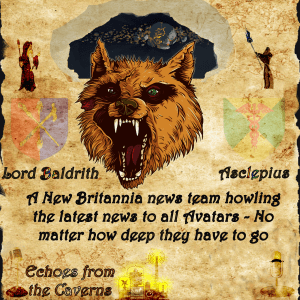 ---
Posted by Lord Baldrith - Email Author
Visit The Caverns Website.
Please note: This is a SotA community run project, and any and all content may deviate from the fictional canon of the game.