Echoes From the Caverns 01-06-17
Podcast: Play in new window | Download (Duration: 1:11:17 — 88.2MB) | Embed
Subscribe: Apple Podcasts | Email | RSS
Hello everyone! Happy New Year!:
The Making of the Canyon Siege Encounter
The Making of Brookside
Perennial Coast Improvements (cont)
Xenos Polish
The Making of Blood Bay
Pre-order Richard Garriott's memoir Explore/Create to receive $20 off Shroud of the Avatar
MMOGames: Shroud Wins Best Crowdfunded Online Game of 2016
MMORPG: Shroud nominated for The Most Wanted MMO of 2017
New Shogun Bundles
Upcoming Events
Community Spotlight: Styx – Player Owned Town
Community Holiday Party at Portalarium!
Community Resources – Players Helping Players
Recommended Projects to Back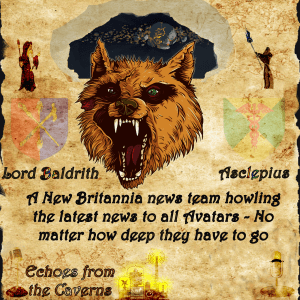 ---
Posted by Lord Baldrith - Email Author
Visit The Caverns Website.
Please note: This is a SotA community run project, and any and all content may deviate from the fictional canon of the game.