Echoes From the Cavern 8-29-14
Podcast: Play in new window | Download (Duration: 46:59 — 107.5MB) | Embed
Subscribe: Apple Podcasts | Email | RSS
Hi All:  Lord Baldrith here with another edition of Echoes From the Caverns.  Great talk with another excellent guest:
Sir Isycle
Hope you enjoy!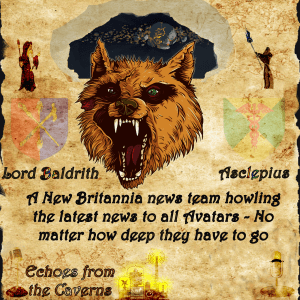 ---
Posted by Lord Baldrith - Email Author
Visit The Caverns Website.
Please note: This is a SotA community run project, and any and all content may deviate from the fictional canon of the game.