Echoes from the Cavern 09.19.2014
Podcast: Play in new window | Download (Duration: 1:06:33 — 94.2MB) | Embed
Subscribe: Apple Podcasts | Email | RSS
Echoes from the Cavern 09.19.2014
Hello everyone. This is the newscast for 09.19.2014. Sir Frank and I had a wonderful time talking to Steven J Goldman, producer extraordinaire and member of the Space Bards and the Recap Band. Apologies in advance if parts of the interview are disjointed – my internet dropped out four times during the session!! Made for some interesting and challenging editing afterwards, trying to get something that sounded consistent. We had a great time and learned a lot – hope you enjoy!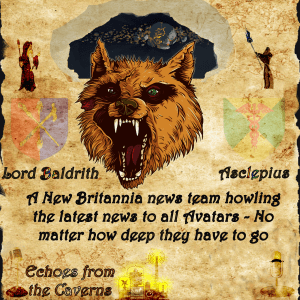 ---
Posted by Asclepius - Email Author
Visit The Caverns Website.
Please note: This is a SotA community run project, and any and all content may deviate from the fictional canon of the game.