Echoes from the Caverns 01-09-15
Podcast: Play in new window | Download (Duration: 38:12 — 35.0MB) | Embed
Subscribe: Apple Podcasts | Email | RSS
Hello Everyone! Welcome to another week of the news! Special Guest today is: Sir Stile Teckel Filling in for Asclepius, who is off fighting with his internet connection. Good excuse for a vacation, nevertheless. Newscast Dated: January 09, 2015.
A boatload of awesome stuff this week including:
SotA #1 Most Anticipated Game of 2015 in Ten Ton Hammer Readers Choice Awards!
SotA at CES
Shroud of the Avatar-A Year of Portalarium: 2014 in Review
Release 14 Grand Tour Quest Reward: The Hennin
Air Elemental
Dragon Pass Progress
The Avatar Chronicles I-Return of the Avatar: Special Developer Edition
In-game Community Weekend Events
Last Chance Exclusives: The Sickle and Village Ring of Stones
Steam Access Keys Available for All Backers
How to Cancel Monthly Payment Plans
This Week in the News
Upcoming Events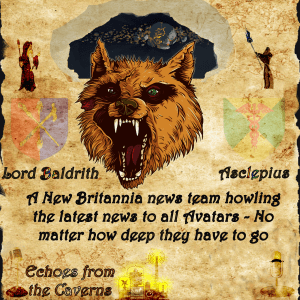 ---
Posted by Lord Baldrith - Email Author
Visit The Caverns Website.
Please note: This is a SotA community run project, and any and all content may deviate from the fictional canon of the game.