10/3/2014 – News Cast
Podcast: Play in new window | Download (Duration: 44:09 — 40.4MB) | Embed
Subscribe: Apple Podcasts | Email | RSS
Ok this is bad, really bad…
no, not the news. My recording of it *hangs head*. Im hearing a horrible background buzz… And well, I have no sound editors this week (all explained in the intro). Ramble way to much (its my first news cast, and not really my gig.. im like a covering temp!!!).
But the show must go on, and this is the show this week.
So without further ado for your torturing pleasure!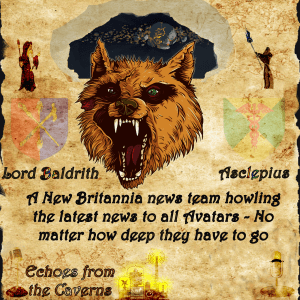 ---
Posted by Sir Stile Teckel - Email Author
Visit The Caverns Website.
Please note: This is a SotA community run project, and any and all content may deviate from the fictional canon of the game.