Newscast Guests?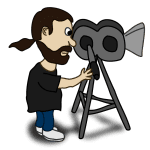 Thew Newcast show is interested in you as a guest! We may have asked you to do a spot with us or you may just be reading this!
Guests have two roles they will play on the show during a session or as a separate interview only recording session.
If the guest is on both the news show then the format is that of someone who will help discuss recent news followed by being interviewed. Lord Baldrith and Asclepius are like a talk show team. They will bring up various news topics informing the listeners of the facts. They then discuss each topic with their opinions and thoughts. The guest gets to participate by doing the same. This allows for other view points and maybe stirring things up a bit! After the news topics are covered they will ask some interview questions of you. This is adds a bit of fun for everyone and it lets them get to know you better as well as the listening audience.
If someone is willing to do an interview with us but due to limited time or scheduling, they wish to instead do a separate recording session for just an interview, we can and do, do that! What we do is we then attach the interview to the 2nd half of a news-cast as a second segment. We much prefer it if you can join us on the news show itself but wed rather have a chance to talk with you then not at all!
Is this live? Video?

Why Teamspeak? How does that work?

No one knows who I am? Why me?

I am not familiar with the recent news?

I have some news I want to bring to the show?

I'm not important, why ask me interview questions after the news?

I have some interview questions I specifically would like to be asked or that I don't want brought up?

Stile your not on the show but your asking me on?

Scheduling seems rough? 8pm Eastern? Friday's?

Where all is this going to be played at?

I feel like I should say yes because your asking me to but really don't want to?

Id like to do it but I don't have the time right now?

How long does this take?