.ABC Download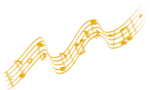 MUSIC, MUSIC, MUSIC!

We present the Lord Baldrith music Library! When the Caverns are quiet if you listen carefully you will hear the echos of the music playing!
By downloading this collection you are agreeing to use it for your own use only and not to re-distribute.
---
Download the entire collection as a single file. Over 1,200 songs and growing!
ABC File Collection by Lord Baldrith
---
We have plans to possibly be offering this full collection as a full-blown online database with filters in the future! We did not want to make you wait though so until then please enjoy these ways to enjoy this collection.
Excel Spreadsheet – painstakingly created and maintained by Lord Baldrith. Mirrors the complete file collection with categories so you can filter and sort to find the songs you want to play!
---
Disclaimer: The files provided herein do not contain recorded copyright material. Some songs and artists are named and associated by similarity only. All contents herein are provided for educational purposes and the user assumes full liability for the use of any material obtained by way of this site. Please contact site administration regarding any copyright or trademark concerns for the immediate removal of any potentially unauthorized material.
User Agreement: You are free to use any of these songs for personal use, but no song may be repackaged or resold.