Echoes from the Caverns 05-25-2018
Podcast: Play in new window | Download (Duration: 1:39:40 — 134.8MB) | Embed
Subscribe: Apple Podcasts | Email | RSS
Greetings Fellow Avatars! Here's what we have for you in this week's edition of Update of the Avatar:
Game Development
Zombie Children
Heraldry Items (cont.)
News Announcements
Release 54 Livestream
Release 54 on the QA Server
Release 54 Dance Party
Portalarium is Hiring: Web Developer
Weekend Flash Sale: Pets & Fur
Upcoming Events Calendar
Community Updates
Spotlight: Rauchbier Platz
Livestream: Westend & Store Housing
The 4th Annual Soldier's Memorial Ball – May 26
AERIE Fund – Community Cause – Primal Nature – June 2018
Win a $50 Gift Card to RelicsbyRild.com!
Project to Support: Sybil
Resources: Players Helping Players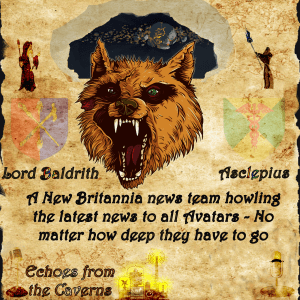 ---
Posted by Asclepius - Email Author
Visit The Caverns Website.
Please note: This is a SotA community run project, and any and all content may deviate from the fictional canon of the game.