Echoes From the Caverns 06-17-16
Podcast: Play in new window | Download (Duration: 37:50 — 48.1MB) | Embed
Subscribe: Apple Podcasts | Email | RSS
Hello everyone! Lord Baldrith here still going solo with Asclepius on vacation! Hope you enjoy the news!
The Making of Brittany Estates
RizeUp Gaming's 4th Annual Multiple Sclerosis Charity Drive, June 17-19
Pledge Stats Update
Womby & Friends Present: Incident in Skrekk (A Tour of Kobold Homes)
40 Day Countdown to Summer 2016 Expiration Event, Part 1
Preorder The Sword of Midras SotA Novel and Audiobook!
Upcoming Events
Community Resources – Players Helping Players
Lace's SotAWiki How-To Video
Backer Shipping Addresses
Recommended Projects to Back/li>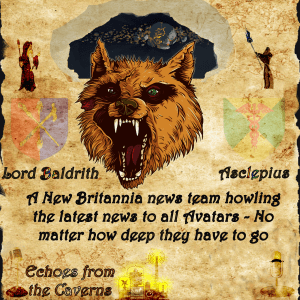 ---
Posted by Lord Baldrith - Email Author
Visit The Caverns Website.
Please note: This is a SotA community run project, and any and all content may deviate from the fictional canon of the game.